Full Time (allows remote)
Asad Avenue, Mohammadpur
No. of Vacancies: 2
Experience: 1 - 3 Year
Posted 6 months ago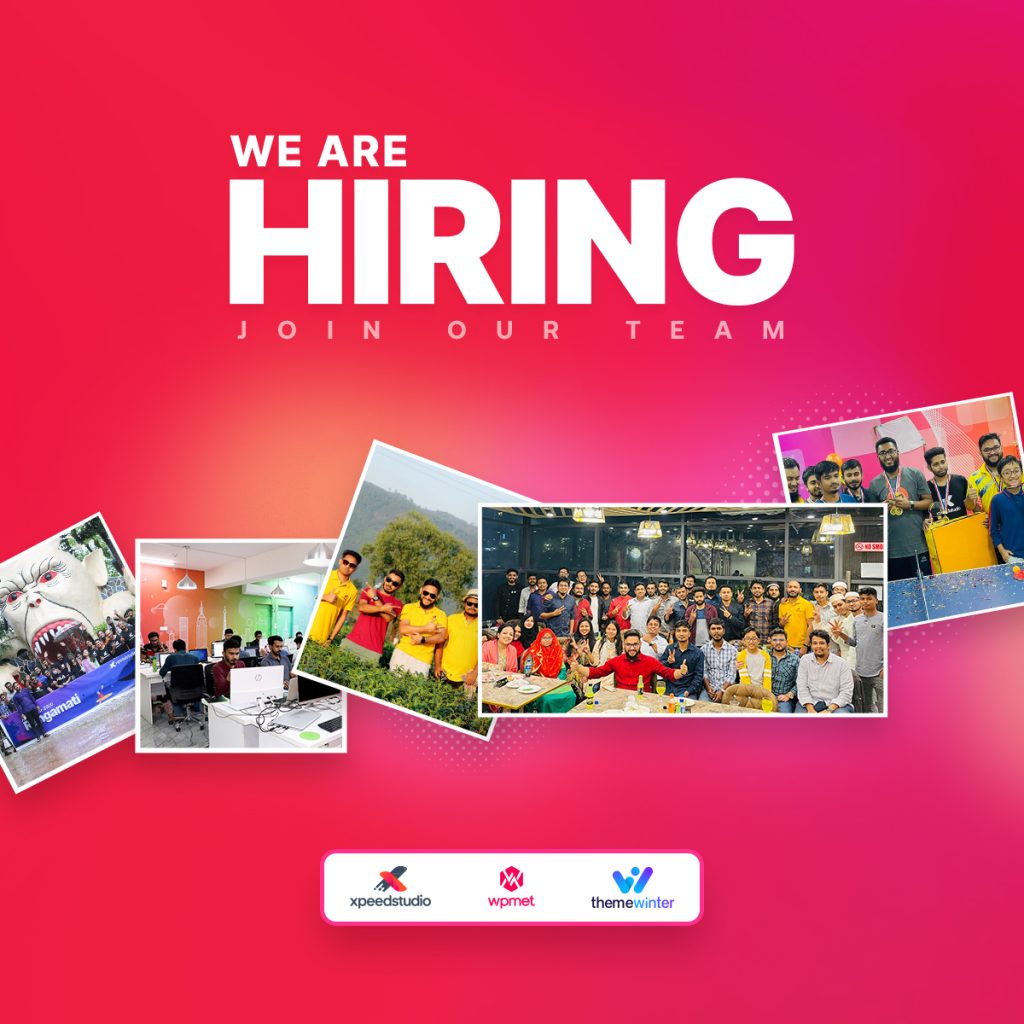 We are looking for support engineers who are passionate about helping people. We are looking for people with the right mix of compassion, writing skills, and technical knowledge to connect with customers and get the job done for them. We do this by listening to their queries, understanding their goals, and then guiding them to the best outcome.
About XpeedStudio
XpeedStudio is a household name in the tech sphere of Bangladesh,  with a pledge to innovate and bring groundbreaking results. Specialising in AI, Machine Learning, SaaS, Web Apps, and Mobile Apps, XpeedStudio strives to produce high-quality, user-friendly, and next-gen web solutions for people worldwide.
At XpeedStudio, we believe in product excellence as well as user experience. All our products are user-centred and aim to give the best experience to our customers.
Our versatile product line includes prominent tools like ElementsKit, ShopEngine, GetGenie, WpCafe, Metform, Wp Social, and Eventin — dominating multiple industries like WordPress, SaaS, and many more!
We feel proud to have served over 10 million happy users, including small to large businesses, enterprises, eCommerce, and personal websites.
For relaxation during work, we have a sports zone, gym equipment, and an area for taking naps. While working at Xpeedstudio, you will feel like you are in the most comfortable workstation for sure!
Where to Find Us:
Requirements
The main focus of this position is customer support and troubleshooting customer issues with WordPress Themes and plugins. In general, you should have a strong understanding of both the backend and front end of WordPress development, and the confidence to troubleshoot any issue that arises. The goal is for the support engineer to be able to handle at least 95% of support inquiries, handing the more complex ones off to the developer.
Required skills:
WordPress (at least advanced, if not expert. You are confident using the Codex and searching the core when necessary to fill any knowledge gaps.)
CSS (advanced – no CSS task should daunt you)
PHP (at least intermediate-level)
Javascript & jQuery (basic level of comfort and troubleshooting skills, though you'd rarely need to write any)
WordPress Theme or plugin Customization (knowledge of template structure, general theming, child themes)
Comfortable in Chrome Developer Tools (mainly for troubleshooting CSS, JS, and network issues)
Ability to run local test installs
Self-starter, motivated & fast learner
Excellent customer service skills
Polite, patient, helpful, even with impolite customers
Fluent written English, excellent communication skills
Educational Requirements:
– This position is not for any Fresher.
– Preferably CSE Background.
– For the people who have at least 2+ years of experienced, Educational qualification may be compromised.
Working Days
– Weekly 6 days. Flexible time 6 hours per day
Salary Range: –
– 30 to 40K BDT per month (Based on your experience)
Benefits you'll get: :
– A great product and a highly motivated and experienced team that wants to push boundaries.
– Yearly Two festival bonuses (According to company policy).
— When you complete 2+ years, you will get an additional 20%+ bonus.
— When you complete 3+ years, you will get THREE bonuses.
– Casual Leave Encashment + 02 Festival Bonus.
– Incentive Project Wise.
– Product Profit Bonus (According to the company policy).
– Training and learning materials to improve skills.
– Lunch and Snacks will be provided from the office.
– Unlimited tea and coffee.
– Annual Salary Increments According to performance.
– Monthly Team Outing.
– Occasional Office potluck, pizza party, desert party etc.
– Yearly Team Buffets.
– Yearly Performance Bonus.
– Yearly recognition & Day Tour.
– Annual Pleasure Tour.
– Fun, Relaxed Working Environment.
– Other facilities as per company policy.
Application Deadline: December 15, 2022