Full Time
Asad Avenue, Mohammadpur
No. of Vacancies: 1
Experience: 3 - 5 Years
Posted 1 year ago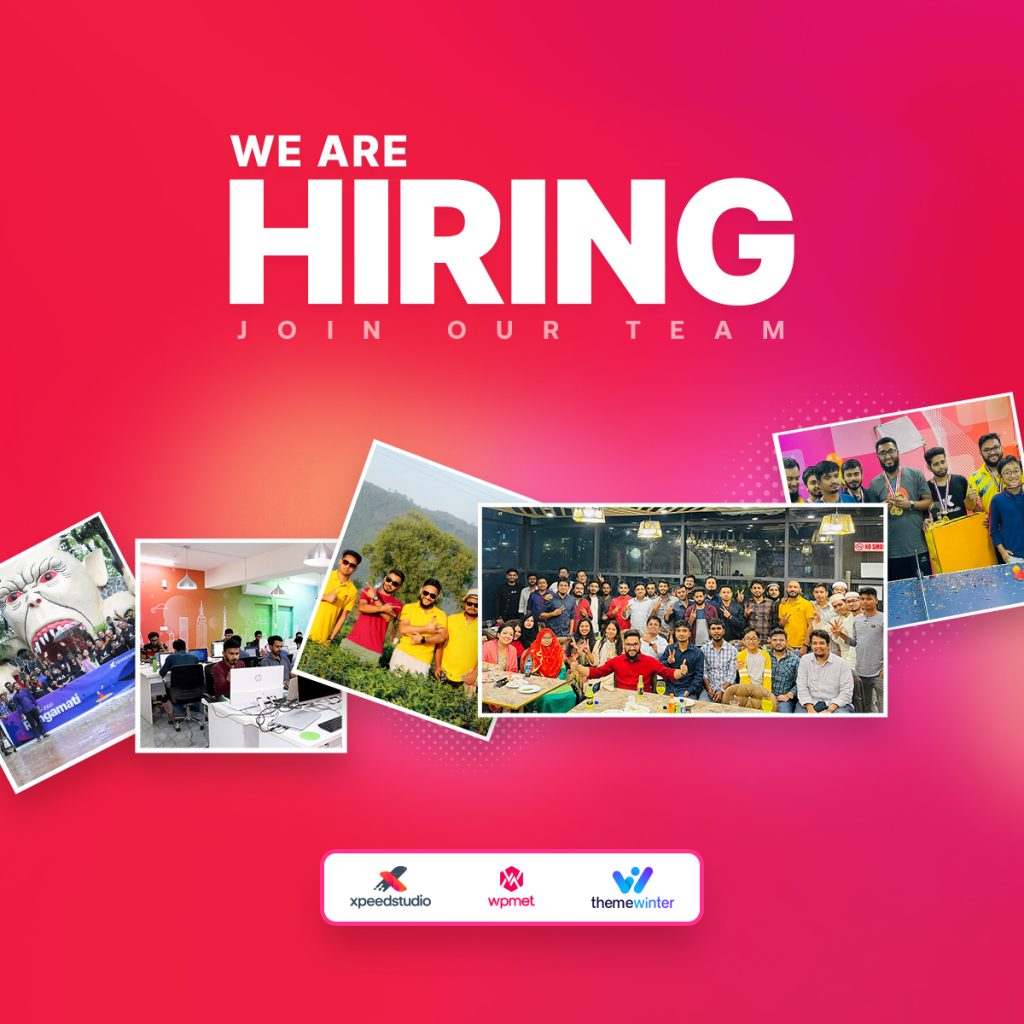 We are looking for a Lead Product Designer who has solid skills in product design, UI/UX design, information architecture, market research, CMF, typography, prototyping, persona, user journey, extraordinary design thinking, and can assume the users' needs. As the Lead Product Designer, you should have the ability to explore new opportunities, generate new product ideas and improve the existing products. You have to be cross-functional to understand the design concept, explain it to the design team, discuss it with developers, collaborate with the marketing team, and design a functional product.
You need to be proactive and come up with new ideas. Also, you need to be confident to cope up with new ideas and design environments.
Who We Are:
We are a leading Software and Application Development company. At XpeedStudio, we believe in product excellence as well as user experience. All our products are user-centered and aim to give the best experience to our customers.
We mostly develop WordPress products including themes and plugins. Our portfolio contains one of the most popular Elementor addons ElementsKit, WooCommerce Addons, Restaurant Apps, Social Plugins, Form Builders, and more. You will also find hundreds of stunning and user-friendly WordPress themes developed by XpeedStudio. Currently, we are working on SaaS products and AI tools to bring revolutionary changes in how our users solve their productivity, design, content and ecommerce related problems.
What We Do:
At XpeedStudio, we work together to build creative themes and feature-rich plugins for WordPress users. We have achieved more than 10,00,000+ happy customers around the globe.
As the Lead Product Designer, you will join a diverse team of software engineers, designers, marketers, and other creative people. You will get a flexible working environment, and there won't be any bossing around. Join the dynamic team of XpeedStudio and explore lots of new challenges.
What We Believe In?:
Learn & Grow – At XpeedStudio, we provide the environment to learn and grow. Get all the required resources from the office to learn and cope up with new stuff.
Happiness – We believe a happy team can grow the company. You will work in a fun and friendly environment and will feel joy.
Respect & Empathy – We do maintain a strong culture of empathy, and we believe everyone should have respect for each other.
Teamwork – We like team players who can contribute to the growth of the team as well as the company.
Appreciation – We do appreciate every single work you do for XpeedStudio. Based on the performance, we provide incentives, campaign bonuses, and many more.
Job Description / Responsibility:
Set design requirements based on information from internal teams and user research
Identify and pitch opportunities for new products.
Analyze how a new product ties in with market needs and consumer preferences
Produce prototypes, MVPs, and test functionality
Improve and groom the design of existing products
Prepare Personas and map user journeys
User research and user testing
Gather feedback from product users
Conceptual and system thinking before design as well as maintaining mobile-first design patterns
Maintain up to date on current industry trends and market conditions
Coordinate with designers to ensure accurate communication and efficiency in the design phase
Deeply passionate about design. You see UX/UI Design as a problem-solving-discipline, not Art
Design customer focus systems and style guidelines for our existing and upcoming products
Has an impressive track record and an outstanding design portfolio.
Experience with successful software implementations in real business applications (web or mobile);
Translate concepts into user flows, wireframes, mockups, and prototypes that lead to intuitive user experiences.
Analyze and extend the features of our existing products in terms of usability and UX
Driving innovation in our overall product design activities
Coaching and mentoring our design team to hone their skills
Collaborate closely with Product and Design to develop long term research plans
Adapt and innovate research methods to deliver the right insights for the problem
You regularly study new things
Be ready to self-organize and self-manage and make own decisions about what to do in order to deliver the result;
Requirements:
Work experience as a Product Designer or similar role
Creativity in mixing up colors, shapes, and techniques
Design thinking is a must skill for this position
Understanding of Information Architecture
Solid understanding of Design Principles
Exceptional verbal and written communication skills
Excellent eye for aesthetic design and customer appeal
Good understanding of color science and combinations
Artistic and innovative flair
Excellent attention to detail
Strong knowledge of the industry and market trends
Able to sit in front of a computer for long hours at a time
You should have basic tech acumen and copywriting skills
Educational Requirements:
Preferably Fine Arts or Graphics Design graduate.
For the people who have at least 4+ years, Educational qualification may be compromised for experienced candidates.
Working Days:
Weekly 5 days. Sunday to Thursday. 10 AM to 7 PM
Salary Range:
Up to 150,000 BDT (Based on your experience)
Benefits you'll get:
A great product and a highly motivated and experienced team that wants to push boundaries
Two festival bonuses (According to the company policy)
Casual Leave Encashment + Bonus
Incentive Project Wise
Product Profit Bonus (According to the company policy)
Training and learning materials to improve skills.
Lunch and Snacks will be provided from the office.
Unlimited tea and coffee.
Fun, Relaxed Working Environment
Annual Salary Increments According to performance
Monthly Team Buffet & Office pizza party
Yearly Performance Bonus
Yearly Recognization
Annual Pleasure Tour
Other facilities as per company policy
Application Deadline: May 30, 2022