Trainee
Mohammadpur,Dhaka
No. of Vacancies: 5
Experience: Fresher
Posted 1 month ago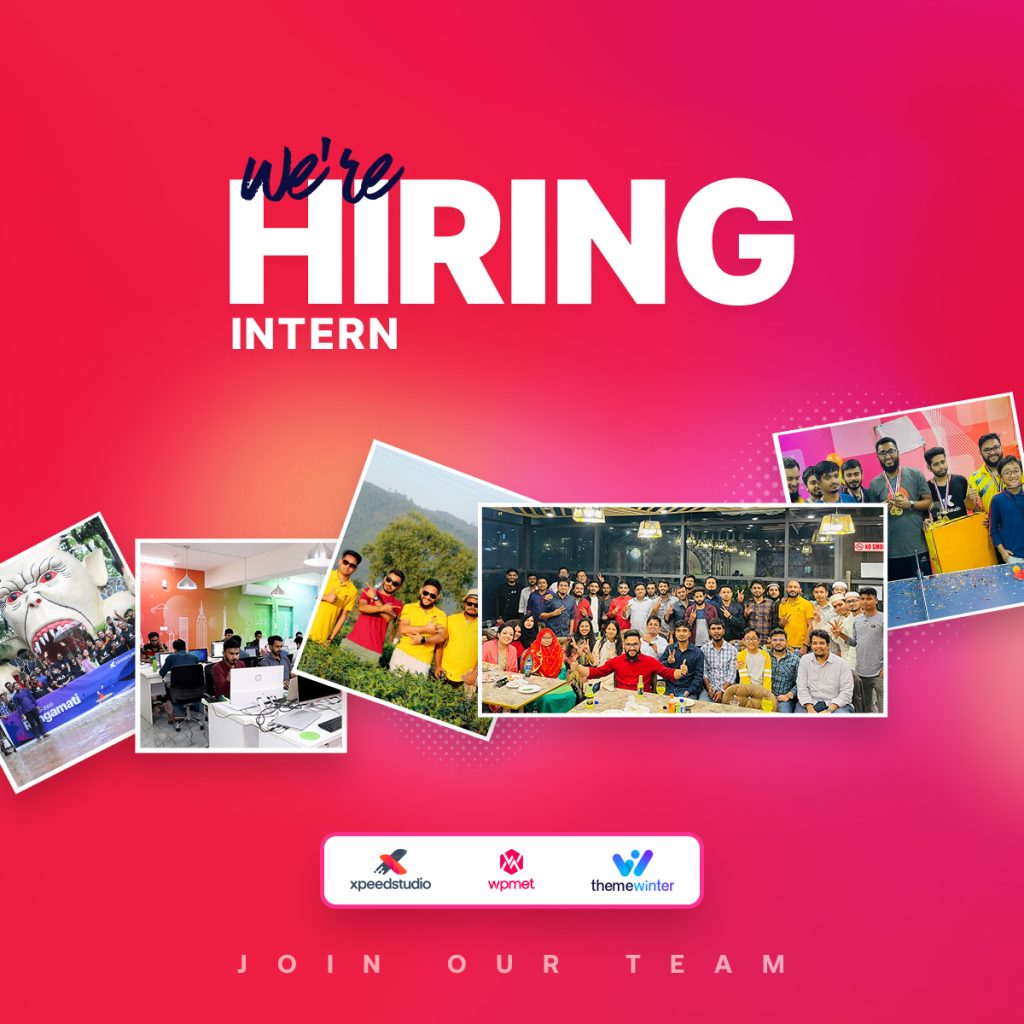 XpeedStudio is looking for some enthusiastic, organized, and intelligent Javascript React Engineer Interns. Our internship program (paid) features a combination of challenging projects with industry-standard software engineering practices, networking, and post-internship job opportunities.
The ideal candidate should have good skills in HTML/CSS, JavaScript, and ReactJS. You will have to accept new engineering challenges within those domains.
About XpeedStudio
XpeedStudio, a household name in the tech sphere of Bangladesh, was founded in 2013 by Ataur R with a pledge to innovate and bring groundbreaking results. Specializing in AI, Machine Learning, SaaS, Web Apps, and Mobile Apps, XpeedStudio strives to produce high-quality, user-friendly, and next-gen web solutions for people worldwide.
We are a team of awesome superheroes , consisting of versatile people with expertise from different fields in tech stacks. We don't just work, we always ensure work-life balance for our employees.
For relaxation during work, we have a sports zone, gym equipment, and an area for taking naps. While working at Xpeedstudio, you will feel like you are in the most comfortable workstation for sure!
We are a leading Software and Application Development company. At XpeedStudio, we believe in product excellence as well as user experience. All our products are user-centered and aim to give the best experience to our customers.
Our versatile product line includes prominent tools like ElementsKit, ShopEngine, GetGenie, WpCafe, Metform, Wp Social, and Eventin — dominating multiple industries like WordPress, SaaS, and many more!
We feel proud to have served over 10 million happy users, including small to large businesses, enterprises, eCommerce, and personal websites. PHP, ReactJS, NodeJS, OpenAI GPT-3, Google NLP, Docker, Ionic, and PuppeteerJs are some of the programming languages, frameworks, libraries, and models we use across all technological frontiers & innovation of our products.
Career Benefits
Opportunities to expand your knowledge and gather experiences on challenging projects.

Learn about web software architecture by understanding the entire web development process (design, development, and deployment).

Experiences in docker development techniques.

Dig down into ReactJS and SCSS.

Since we are an agile team, you will learn and practice Agile/ Scrum methodology daily.

Hands-on experience in automated software quality testing, load testing, and unit testing.

You will practice the international standard git-flow strategy to manage your code.

Connections to other interns, recent grads, brilliant employees across the company, and our leaders.

Depending on your performance we might add you to our team permanently or refer you to another renowned software company around the country.

A Certificate will be provided after completion.
Other Benefits
Paid internship.

Unlimited tea, coffee, and breakfast from office.

Free lunch for full time interns.

Opportunity to learn from industry experts.

Growth sessions from internationally renowned experts.

Friendly environment and cooperating team members.
Responsibilities (includes, but are not limited to)
Write codes in Pair Programming and Mob Programming style.

You will develop React frontends for various projects.

Develop and maintain new features.

Fix bugs in new and old projects.

Maintain a healthy software development culture.

Writing automated test scripts.

Brainstorming on complex technical problems.

Learn from various documentations/ tutorials.

Daily reporting.
Technical Requirements
Must have knowledge of how the web and web software work.

Must have a clear understanding of HTML/CSS, JavaScript, and ReactJS.

Basic knowledge of nodeJS.

Strong attention to detail and clear communication skills.

The basic idea of git.

Strong problem-solving, debugging, and critical thinking skills.

Dedication, dedication, and dedication.
Educational Requirments
Bachelor of Science (BSc) in Computer Science & Engineering or equivalent field.

Experiences in competitive programming will get priority access.

A good profile with StackOverflow and Hackathon will get priority access.

Salary Range: –
– 10,000 to 15,000 BDT (Based on your experience).
Working Days
– Weekly 05 days. Sunday To Thursday. 08 AM to 05 PM.(Launch Break 01 Hour)
Please, upload your CV in PDF format.
Application Deadline: July 25, 2022